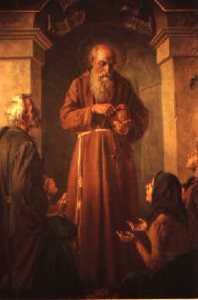 We are an active community of Secular Franciscans servicing a wide area of communities in Maryland; Bowie/Crofton, Annapolis, Severna Park, Glen Burnie, and across the Bay bridge to Kent Island. Currently, there are 28 active members of our Fraternity and 6 excused members who for some reason may not be able to come to our monthly gatherings, but who nevertheless contribute as much to the community by their sacrifices and prayers. We meet once a month at St. John the Evangelist school Youth Room in Severna Park, Md., located on 689 Ritchie Highway, Severna Park, MD 21146, usually on the third Saturday of the month. We start our monthly gathering at 8:30 AM with a Mass at St. John the Evangelist Church, Severna Park; then, off to the Youth room in the school next door for our breakfast and meeting, where we discuss various topics for the month and share.
One can feel the Franciscan charism in our meetings, creating an atmosphere of love and concern for one another, serving the poor in our communities, caring for the environment, actively participating in our parishes, and most of all, praying for the unborn and dignity of all God's people. Our outreach goes beyond our own communities; we sponsor a family in India, and a newly forming Fraternity from the Holy Family Parish in Davidsonville, serve meals at the Annapolis Light House, as well as collect small gift items for our seafarers in Baltimore through the Apostleship of the Sea.
If you feel that you are being called to the Franciscan Way of Life, come to our Open House or one of our monthly meetings to learn more. Once a year, we hold parish visits in over a dozen parishes where our members are active parishioners.
To inquire, please contact any of the following members of the Council:
Minister Joan Faltot, OFS jd6bouv@verizon.net
Vice Minister Catherine Gonzalez, OFS cmgonzalez59@outlook.com
Secretary Jean Gaes, OFS
jeangaes@gmail.com
Treasurer Joe McHugh, OFS joe4joan@verizon.net
Formation Director Denise Miante, OFS rubob903@gmail.com
Councilor-at-Large Genny Wilbourne, OFS gmawjmj@verizon.net
Spiritual Assistant Fr. Patrick Monahan, OFM Cap.
Is Christ calling you to walk in the footsteps of St. Francis of Assisi?
If you are interested in learning more about Franciscan spirituality, or possibly find yourself discerning a call to the Secular Franciscan Order, please join us. Inquiry is open to all Catholic men and women not members of another religious order or secular order and 18 years or older. Candidates must be practicing Catholics faithful to the teachings of the Church and loyal to the Apostolic See. The Secular Franciscan Order belongs to the Franciscan Family and is "formed by the organic union of all the Catholic fraternities, whose members, moved by the Holy Spirit, commit themselves through profession to live the Gospel after the manner of St. Francis in their secular state following the Rule approved by the Church" (Const. 1,3).