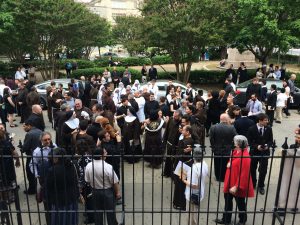 Nothing could have prepared us for the news that one of our fraternity's beloved spiritual assistants , Br. Saul Soriano, OFM Cap, was called to eternal life in the morning of May 7, 2018. Born in El Salvador on August 18, 1986, Br. Saul emigrated to the United States with his parents at a young age of 18. In 2012, he graduated with honors from John Carroll University with a degree in Philosophy. Upon graduation, Br. Saul joined the Capuchin Franciscan Friars of the province of St. Augustine in Philadelphia, and made his perpetual vows as a Capuchin Friar in 2017. At the time of his death, Br. Saul was preparing for his examination for ordination as a deacon and the completion of his theological studies in the Fall. Br. Saul was thirty-one years of age when he passed away, a young and vibrant friar and student who touched so many lives in various ministries. He was well loved by his Capuchin brothers, the religious, the Secular Franciscans in our fraternity, and most of all, the poor in parishes and various missions whom he served with love and dedication. This was evident in the large crowd that attended the Mass of Christian Burial for Br. Saul on May 12th at the Shrine of the Sacred Heart in Washington, D.C.
We mourn the loss of Br. Saul's friendship and his untimely death. It is hard to see past the pain, because we do not see as God sees. We find comfort in the knowledge that God's timing is always perfect, giving reference to the Book of Wisdom (Chap 4):
"But the righteous one, though he die early, shall be at rest. For the age that is honorable comes not with the passing of time, nor can it be measured in terms of years. Rather, understanding passes for gray hair, and an unsullied life is the attainment of old age. The one who pleased God was loved, living among sinners, ……. Having become perfect in a short while, he reached the fullness of a long career; for his soul was pleasing to the Lord, therefore he sped him out of the midst of wickedness. "
Adios, Br. Saul, Adios.