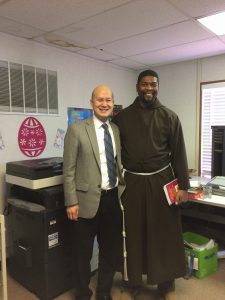 CATHOLIC TEACHINGS ON TODAY'S SOCIAL JUSTICE
Meet Christopher J. Yeung, Ph.D., Pastoral Associate to the Western Vicar in the Archdiocese of Baltimore. He is shown above with Br. James Watson, OFM CAP, our Spiritual Assistant.
Dr. Yeung was our guest speaker at the monthly Fraternity meeting held at St. John The Evangelist Church, S.P. on April 8, 2017. He spoke on the Catholic perspective on social issues, specifically, on Immigration. As an immigrant himself, Dr. Yeung helped us understand the foundation upon which the Catholic Church's teachings are based. He gave references in the Bible and provided sources in the USCCB and magisterial texts or encyclicals issued by popes and bishops.
In today's individualistic society, it is hard to understand the fact that human beings are social beings. The individual belongs to a family, the family belongs to a society, and so on. We have the responsibility to care for the poor and the vulnerable in our society, so much so that, if the poor are not taken care of, the entire society becomes sick.
Fraternity Members who were present at the talk came away with an understanding of the basic principles on immigration, as initially presented in the 1891 encyclical Rerum Novarum (On The Condition of Labor), and articulated in later teachings by popes and bishops.
Also, we are encouraged to explore the website of the Maryland Catholic Conference (MDCATHCON.ORG) in order to learn more about matters that may directly impact our local communities.
We are so blessed and thankful to Dr. Yeung for his enlightening talk.